14/01/2021
696
4

NetSense Legit cheat
Before you use the cheat i dont recommend you using it on your main account

A good cheat for CSGO NetSense - Legit, Rage, Skins that you can download for free. Multi-functional hack on the popular online game Counter-Strike: Global Offensive. Convenient and simple menu that opens right during the game. The functionality is mainly for aggressive play or playing on servers with other cheaters. There is also a working skinchanger, antiaim, Resolver, AA, Legit Resolver and legitbot, as well as other auxiliary functions for a comfortable game. Use the cheat at your own risk, there is a chance of getting banned.


Download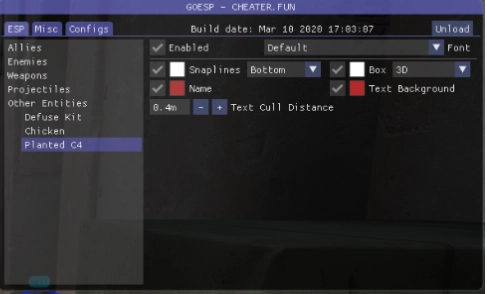 14/01/2021
203
3

GOESP (Windows, macOS, Linux)
- I don't recommend you use the cheat in your main steam account there is a small chance you will be banned

"GOESP" is a cheat known for only wallhack so it means u can see locations off all the people in the game.

- How do I open menu?
Press INSERT while focused on CS:GO window. [ Not for 60% keyboards]

- Is the ESP visible on recording?
Nope, but you have to uncheck 'Capture external overlays' option in your recording software.
Download